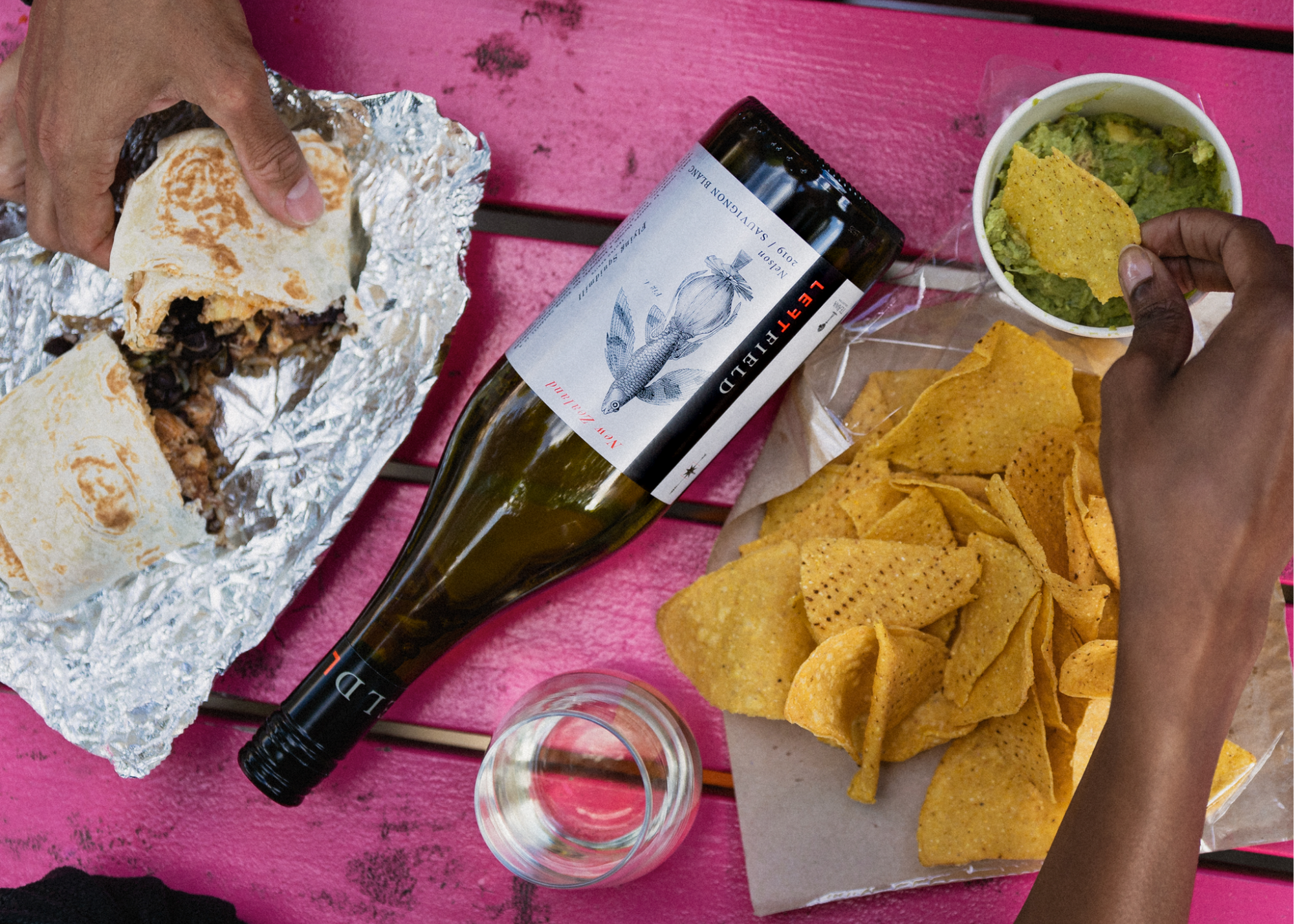 The Perfect Wine For Any BYO Shindig
So you've been invited for a BYO night out on the town or looking forward to taking your favourite BYO to the beach with friends... look at you, you little social butterfly. Bravo. But now the big decision is what wine do is going to best complement your meal?
In our opinion, wine choice and food pairings should always come down to personal preference. If you love a glass of Chardonnay with your Friday Maccas, we say why not! However, sometimes a little guidance to navigating the murky world of wine can be helpful which is why we've created this pairing guide to take your BYO faves to the next level with the right Leftfield wine.
Thai : Albariño / Sauvignon Blanc
Thai is a crowd-pleasing BYO cuisine and the perfect match to many of our wines. But if we had to pick the hero wine for your next Thai BYO outing, we'd be going for a crisp white wine with freshness, a tiny bit of sweetness and good acidity that goes well with the sweet and sour yet hot, spicy flavours in Thai food.
The best wine match for a wide range of Thai dishes from salads, stir-fries, noodles and curries is a glass of our Gisborne Albariño. Packed with juicy peach and melon flavours, this little upstart is here to duel for your affection. The fresh fruit flavours and bright acidity work in tandem with the fresh flavours, texture, and chilli heat of Thai food, and the lingering taste of lime is a welcome addition to the likes of a classic Pad Thai.
Can't find Albarino or looking to stay a little more mainstream? Our New Zealand Sauvignon Blanc is a banging match. Light and refreshing, the tropical fruits and fresh green flavours in this wine pair nicely with the subtle spice and sweet/savoury fusion of our favourite Thai dishes. The zippy acidity in our Sauvignon Blanc will be sure to enhance the divine flavours in a Thai Green Curry. 
Chinese : Pinot Noir / Pinot Gris
With too many good options available at any Chinese BYO restaurant, getting a few dishes and sharing with friends is always a good idea. So when Chinese is on the menu for your BYO shindig, you want a wine that's supple to balance out the flavour bomb.
With a touch of sweetness and a juicy berry intensity, our Wholeberry Pinot Noir is flexible enough to work with many of the dishes you'll find on the menu. This wine compliments the many beef dishes as well as pork which is a common ingredient in the irresistible dumplings. The rich berry flavours and acidity in this Pinot Noir work like magic with the fatty, sweet and salty goodness of Peking Duck.
If red wine's not your vibe and you're looking for a soft and luscious white to accompany your meal, our Hawkes Bay Pinot Gris meets rich, spicy Chinese dishes on their level. The soft and friendly flavours of sticky pork belly or sweet and sour chicken dance with the richer weight of this aromatic white. Offering flavours of ripe apple and pear, this wine brings it all together with a not too sweet yet not too dry palate.
Italian : Malbec
Nothing says Friday night like a big bowl of saucy Italian pasta and a glass of red wine. But when it comes to which red wine to pair with the rich sauces and vibrant flavours in Italian dishes, we say the richer and silkier the better.
Smooth velvety waves of our Hawkes Bay Malbec are the perfect company to your favourite bowl of tomato pasta. With dark juicy fruit flavours and warming spice, this brooding red is at home with rich meaty comfort foods and is the perfect medium-bodied red to accompany the moreish acidity of a delish tomato based pasta like Spaghetti Bolognese.
Our Malbec is a very versatile wine within Italian cuisine that won't shy away from the creamy goodness in a mushroom Fettuccine as well as nicely complimenting the intense flavours in a pesto pasta. It's also a fantastic wine to enjoy with pizza, especially when the pizza is loaded with all the good Italian toppings such as pepperoni, Italian sausage, mushroom, olives and stretchy mozzarella cheese.

Indian : Rosé / The Hatchling
We love the sensational aromatic flavours that come through in Indian cuisine. With the creative use of chilies and a wide range of vibrant spices, it can be hard to decide which wine to drink alongside the varying flavours of sweet, sour and spicy in our favourite Indian dishes.
You might think us crazy, but our champion wine to go hand-in-hand with to your next Indian BYO is our delicious dry Hawkes Bay Rosé. This lively yet easy-going wine brings a lightness that makes that scrumptious Butter Chicken feel a little less heavy. The slight sweetness in this wine balances out the spice and complex flavour profile in Indian dishes, taking your meal to a new level.
The aromatic flavours in Indian dishes are also well paired with a large glass of our silky smooth red from Hawkes Bay The Hatchling. Rich and smooth, The Hatchling is one big party of dark berry flavours and puts the incredible taste sensations in Indian cuisine up on a pedestal. If your curry choice is a delicious Lamb Rogan Josh, this wine is the perfect match. That melt in your mouth lamb deserves the smoothest, softest red.
Malaysian : Leftfield Chardonnay 
Last but definitely not least, no isn't an option when a Malaysian BYO outing is on the cards. For Malaysian food, we like to choose a wine that's fresh but can stand up for itself to enhance the unique flavours in Malaysian dishes and provides an extra layer of texture to the meal.
A glass of our Hawkes Bay Chardonnay is a winning wine to accompany you to your next Malaysian BYO. Up front flavours of grapefruit, vanilla bean are supported by the late arrival of naval orange, nectarine and a dusting of oaky spice. It's wicked combination with a divine Coconut Chicken Curry, refreshing and cleansing the palate between mouthfuls allowing you to take another mouthful of Nasi Goreng without letting the spices fight for the attention with the wine.